Sometimes it's hard to find a word to describe an Emerson Knife or the feeling it conjures up when held in your hand. In this case, for this knife, the word is Spectrum; that which covers a wide range of possibilities or probabilities.
This is a full spectrum knife. It can be used as a tactical knife, utility knife or a weapon, covering just about every use a knife can be asked to do.
Designed for the elite operator in need of a multifaceted knife that is able to adapt to any threat or environment encountered. Non-reflective and corrosion resistant, the Spectrum will withstand hard use applications. Available with a Black coated blade ONLY.
Just as the warriors who have carried Emerson Knives into battle who must be able to adapt and change according to the threat or environment they encounter, they have a  broad spectrum of skills and experience that they rely on to prevail.
The Emerson Spectrum Knife is a multi-talented, multi-faceted, all-rounder knife that you can count on wherever or whatever the case may be. The knife feels great in the hand, handles like an Italian sports car and hits like a ton of bricks. This is a strong design, about as strong as I've ever made. Don't just take my word for it. See for yourself. I think you'll agree.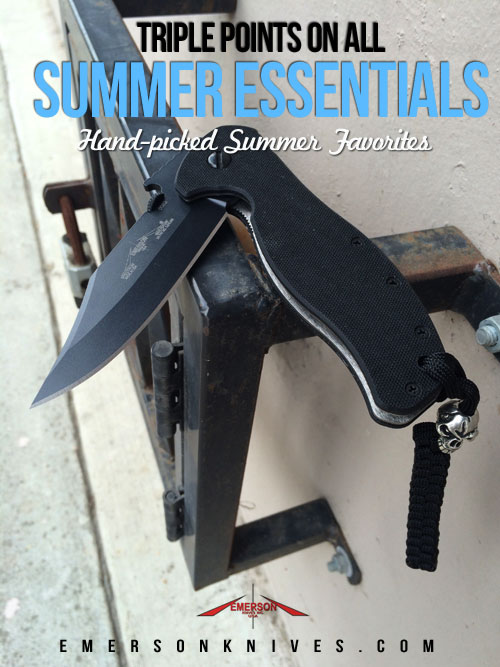 Part of our Signature Series, the Spectrum Knife by Emerson Knives is available for a limited time, so be sure to get yours today. For the month of August, all of our hand picked Summer Essentials are eligible for triple reward points, where you can earn points to use as discounts on future purchases.
The Emerson Spectrum Knife is available with serrations, and looks great with an added Emerson Knives lanyard. For left hand carriers, be sure to check out the drill and tap upgrades to customize your knife for the perfect utility.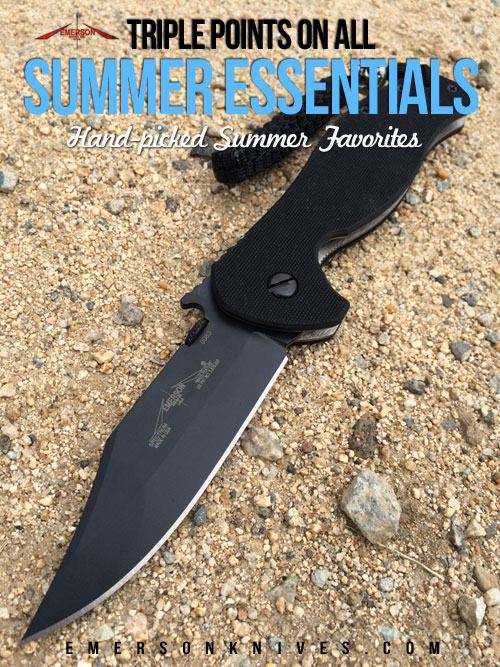 SPECS
Blade Length:  3.8 in.
Overall Length:  8.9 in.
Closed Length:  5.2 in.
Blade Thickness: .125 in.
MATERIALS
Blade Steel: 154CM
Blade Hardness: RC 57-59
Blade Finish: Stone Washed or Black Coating
Lock: 6AL 4V Aerospace Grade Titanium
Handle: NASA Certified Black G-10 Composite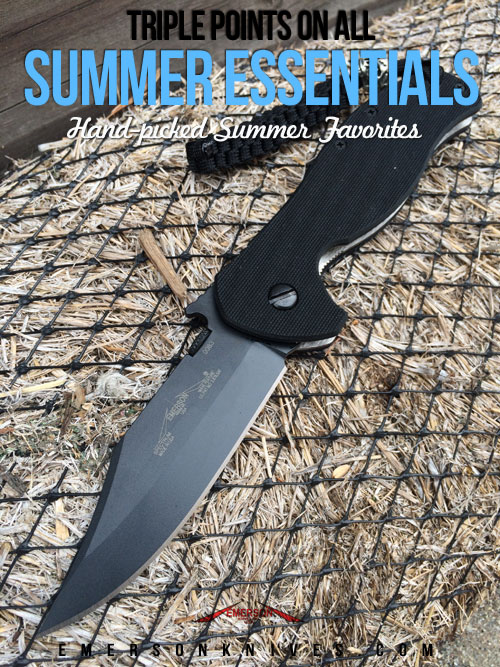 The Emerson Signature Series Spectrum Knife  is part of our 2015 Summer Essentials Collection, which ends at the end of August, so be sure to take advantage of all triple reward point bonus, plus free shipping for all orders over $200.