The Instructor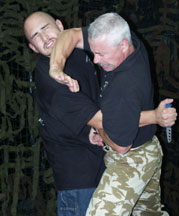 Ernest R. Emerson is the greatest living authority on the design and use of the knife as a tactical weapon. He is the owner of Emerson Knives Inc., recognized as producers of the #1 Hard Use Knives in the World ®. His designs have won numerous awards and are used by elite military and law enforcement groups throughout the world. Mr. Emerson is one of the most sought after and respected instructors of reality based combat in the world in both Hand-to-Hand Combat and the use of a knife as a tactical edged weapon. His resume includes instructor positions at some of the leading professional training facilities in the world and a virtual Who's Who of seminars and courses taught to many of the world's elite military fighting units. Mr. Emerson started his martial arts training at the age of 16 in Korean Judo. While attending high school he was an outstanding wrestler and athlete, being drafted to play pro baseball at the age of 17. While attending the University of Wisconsin, he double majored in World History and Physical Education. While there he earned a brown belt degree in Kyokushinkai Karate and a black belt in Shotokan Karate.
After graduating, Mr. Emerson moved to Torrance, California to train, fight and compete at the prestigious Filipino Kali Academy run by Dan Inosanto and Richard Bustillo. While studying there for five years he was trained in Jun Fan Gung Fu, Jeet Kune Do, Filipino Kali and Escrima, and a plethora of related arts. Mr. Emerson went on to train in Gracie Jiu Jitsu for three years at the original Gracie Academy in Torrance, California and was fortunate enough to train with the founders of Gracie Jiu Jitsu, Rorion and Royce Gracie. Mr. Emerson travels extensively around the world to teach and train in various martial disciplines and has studied with top combat arts instructors from various European and Asian countries.
Mr. Emerson is a respected authority on ancient warfare and hand-to-hand combat systems. He has undertaken an extensive study of ancient hand-to-hand combat systems from the ancient Roman Gladiatorial and Legionary fighting systems to the present. The system that he now presents is a hybridization of systems and is based upon many gladiatorial and legionary techniques, principles and concepts. You will find that this course and system are like no other and do not represent a rehashing of techniques as taught by so many others. What is contained in this system is 2000 years of distillation to what now represents an original style of fighting – original meaning from the origin. These are combat techniques. They are raw, savage, simple and brutal. They are designed for survival.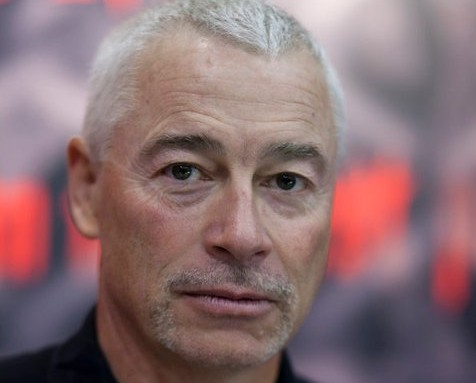 Ernest Emerson was a martial artist and fighter many years before he was a knife maker. Starting at the age of 16 and continuing rigorously to this day, he has accumulated over 40 years of "hands on" practical experience. Mr. Emerson has developed a highly specialized and unique fighting system that has revolutionized the way in which fighting skills are now taught. Mr. Emerson is the founder and developer of Emerson Combat Systems, a comprehensive training program geared to the realities of professional use for Military and Law Enforcement personnel. He has trained or taught at some of the finest fighting academies in the world. he helped develop the initial edged weapons programs at Gunsite, and introduced the edged weapons/hand-to-hand combat course at Blackwater Training Center. Mr. Emerson was also the lead hand-to-hand combat instructor for the company, Global Studies Group Inc., (GSGI) and international security company, for over three years and is the director of the Combat Research and Development Group.
Mr. Emerson developed the first and only P.O.S.T. certified edged weapons training for the state of California and he is an expert witness for the Los Angeles District Attorney's office. He is a noted author and lecturer on the subjects of hand-to-hand combat, defensive tactics, edged weapons and related subject matter. He has been teaching his combat systems to government agencies, police, military and civilians around the world for over 20 years and has been used as a consultant to National Geographic and has consulted as a technical advisor to various televisions and movie productions.
His hybrid system has been taught to numerous Police and Law Enforcement Agencies, numerous members of the U.S. Military, including U.S. Marines, U.S. Navy SEAL teams, U.S. Air Force and Army Special Forces. Mr. Emerson has instructed FBI, DEA, Federal SWAT teams, operatives from various government agencies, correctional officers, high risk entry teams and hundreds of civilians.
This system is based on simple truths and effective, proven techniques unencumbered by dogma, ritual, or sporterized versions of various fighting arts.
Emerson Knives is the only knife company in the world that can bring such unique experience to not only the tactical design aspect of the knives, but to the tactical training in the use of the knives, as well as hand-to-hand combat. Emerson Knives was the first knife company to offer training in the use of knives starting back in 1995. Others have followed and more will surely follow Emerson's precedent, but "hired on" instructors teaching the same old techniques as any other martial arts school, is not what the Emerson Combat Systems is about. There is really less than a handful of instructors in the world qualified to teach "real world" combat fighting skills. Ernest Emerson is one of them. As an employee for the U.S. Government, Mr. Emerson has been issued Confidential, Secret, Top Secret, EBI and compartmentalized clearances.