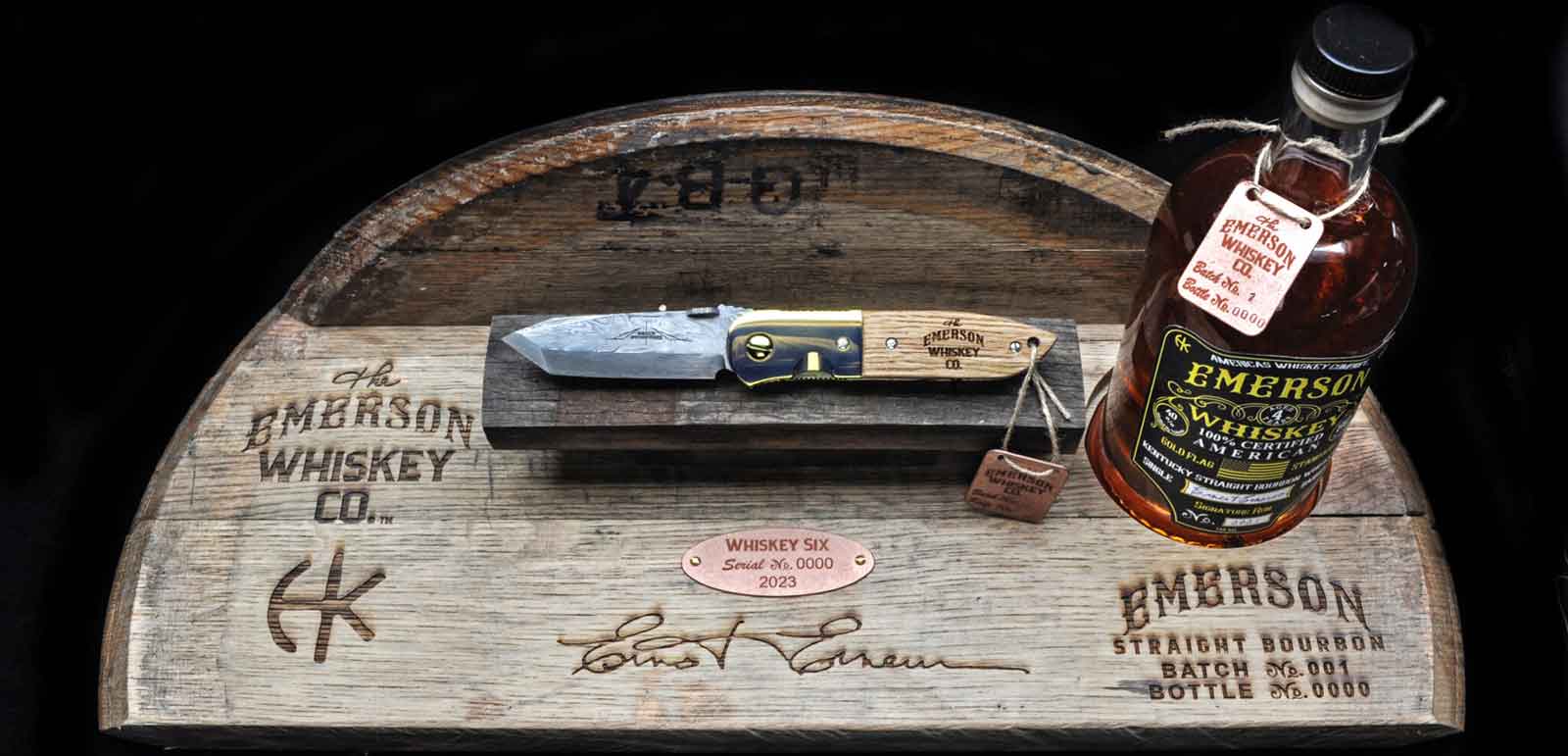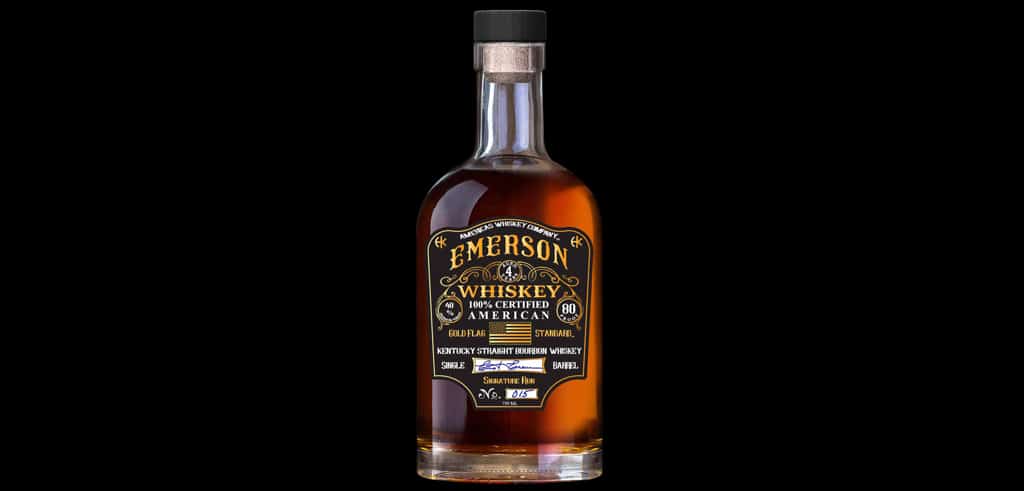 Price $160
Very Limited Quantities Available
Hand Signed and Serialized
Production Knife and Whiskey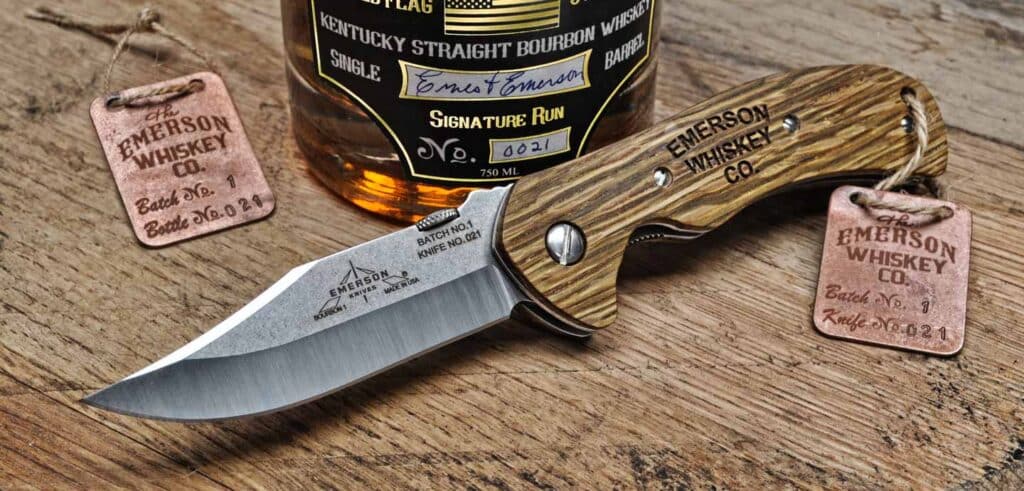 Price $499
Serialized 021 – 100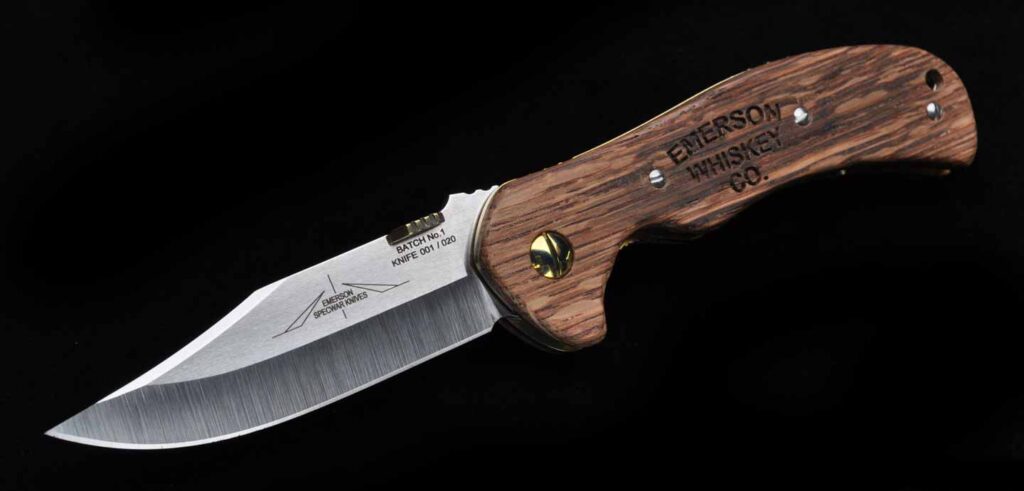 Price $1,365
Serialized 001 – 020 only
Custom Knife and Whiskey Package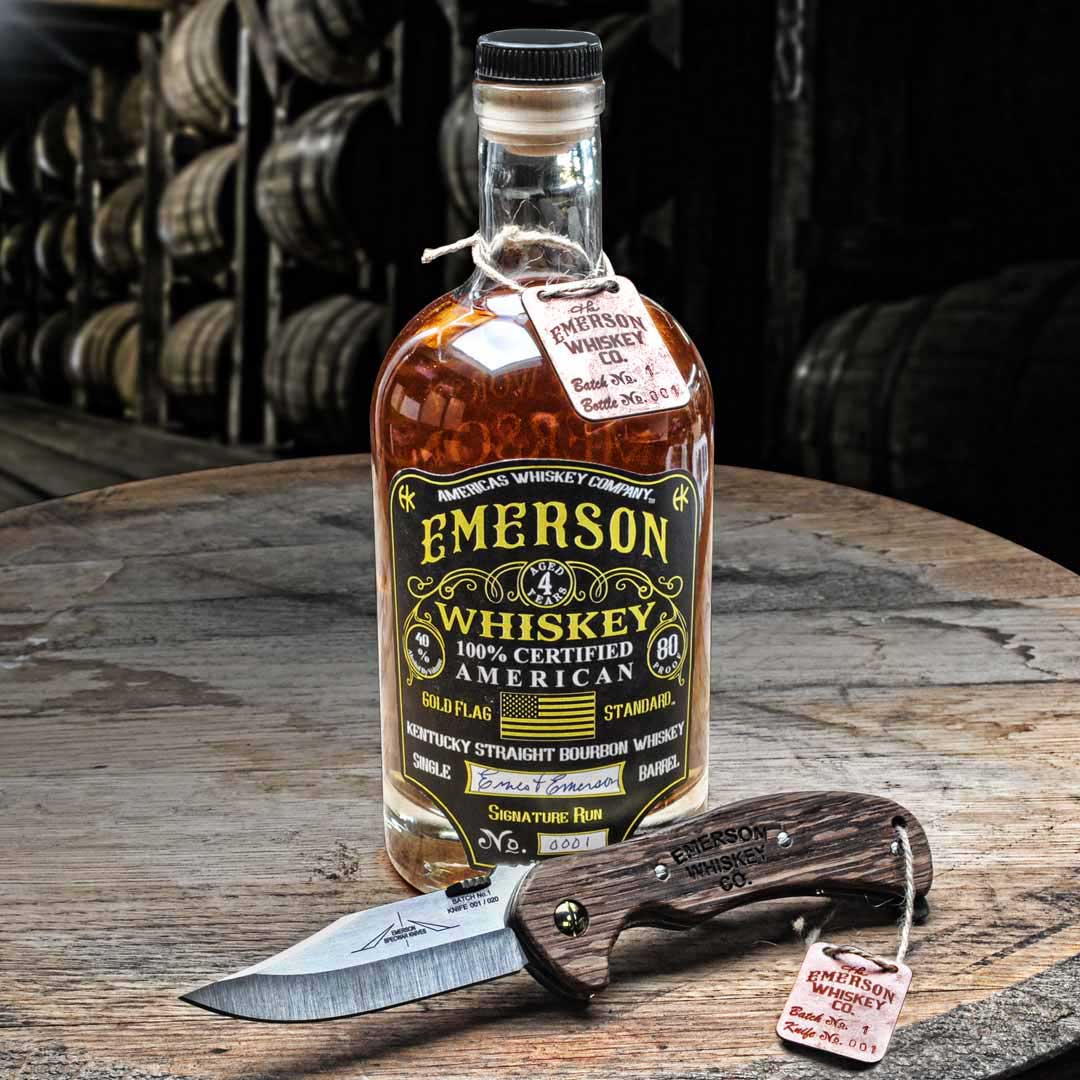 This package is a matched set limited to only 20 offerings. It consists of an Ernest Emerson, Handmade Special Custom Edition Emerson Knife, paired with a serialized, matched bottle of Emerson Bourbon. The Knife is completely handmade and hand ground by Ernest Emerson featuring stunning, highly polished, tank tread, titanium backspacers, highly polished liners, and hardware, all anodized to a brilliant golden finish. The handles are handcrafted white oak, fully stabilized and made from the origin barrel of the Emerson, Single Barrel Bourbon. Both knife and whiskey package memorialize this beautiful and stunning pairing of fine cutlery and superb Kentucky Straight Bourbon.
Serialized 001 – 020 only. 
Production Knife and Whiskey Packages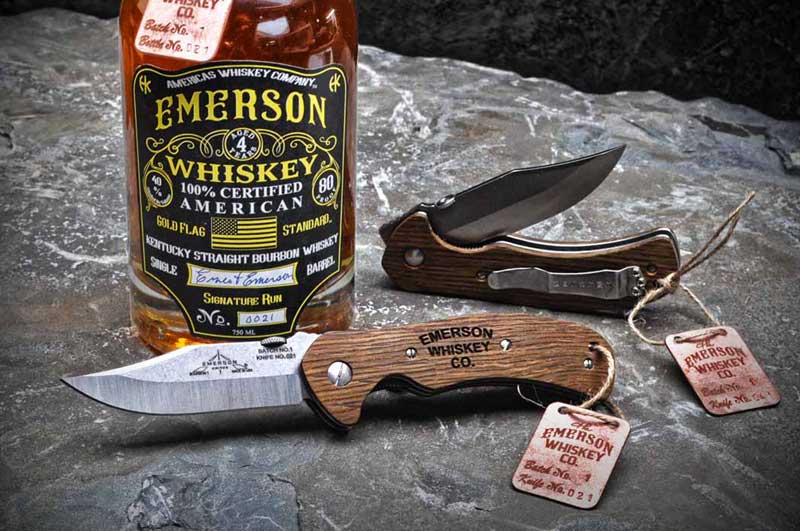 The Emerson Whiskey Company brings to you a package only we can give to you. It is the only package of this kind and one that no one else can ever offer – an Emerson Knife, Emerson Whiskey Combination, that are both hand signed by Ernest Emerson and with matching serial numbers. Each bottle of whiskey comes with a matching Emerson Company Made, finely crafted, Bourbon knife model made from the whiskey barrel staves of the origin barrel. This is a strictly limited set – when they are gone, they are gone. 
Serialized 021 – 100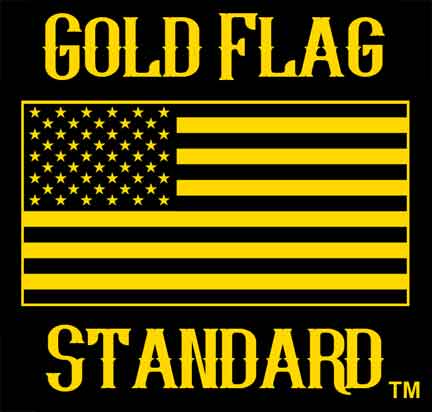 The Emerson family spent several years bringing these efforts to fruition. I must say this involved a lot of dead-ends and quite a number of very average and very common whiskeys, till, finally the stars aligned, and it was all truly worth the effort. We found it. Our single cask Kentucky straight bourbons are distilled at legacy distilleries located in the heart of bourbon country, Kentucky. Aged for four years in new, white oak, charred barrels, our whiskies have all the delectable tastes and charm so sought after by all bourbon enthusiasts.
The first offerings from the Emerson family and the Emerson Whiskey Company are from family selected single barrel runs, and available in a limited hand signed and serialized editions, making them special packages of unique whiskies sure to satisfy the discriminating tastes of any sophisticated bourbon aficionado.
WHISKEY BATCH #2 STRENGTH AND HONOR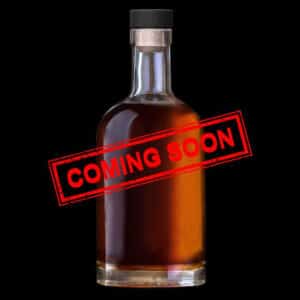 Batch number 2, "Strength and Honor," Emerson Straight Kentucky Bourbon distilled in Franklin, Kentucky.
Subtle taste of toasted Marshmallows and black raspberries, a touch of black pepper with a finish of a cool spring breeze.
WHISKEY BATCH #1 GOLD FLAG STANDARD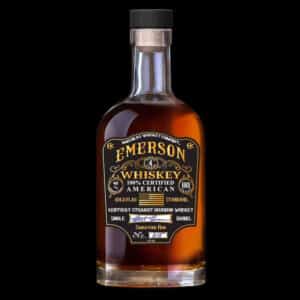 Batch number 1, "Gold Flag Standard," Emerson Straight Kentucky Bourbon distilled in Owensboro, Kentucky.
The tasting notes are – Hints of caramel and molasses, but not sweet.  A very subtle dash of smoked wood. A savory aftertaste and finish of crisp, Autumn, outdoor freshness.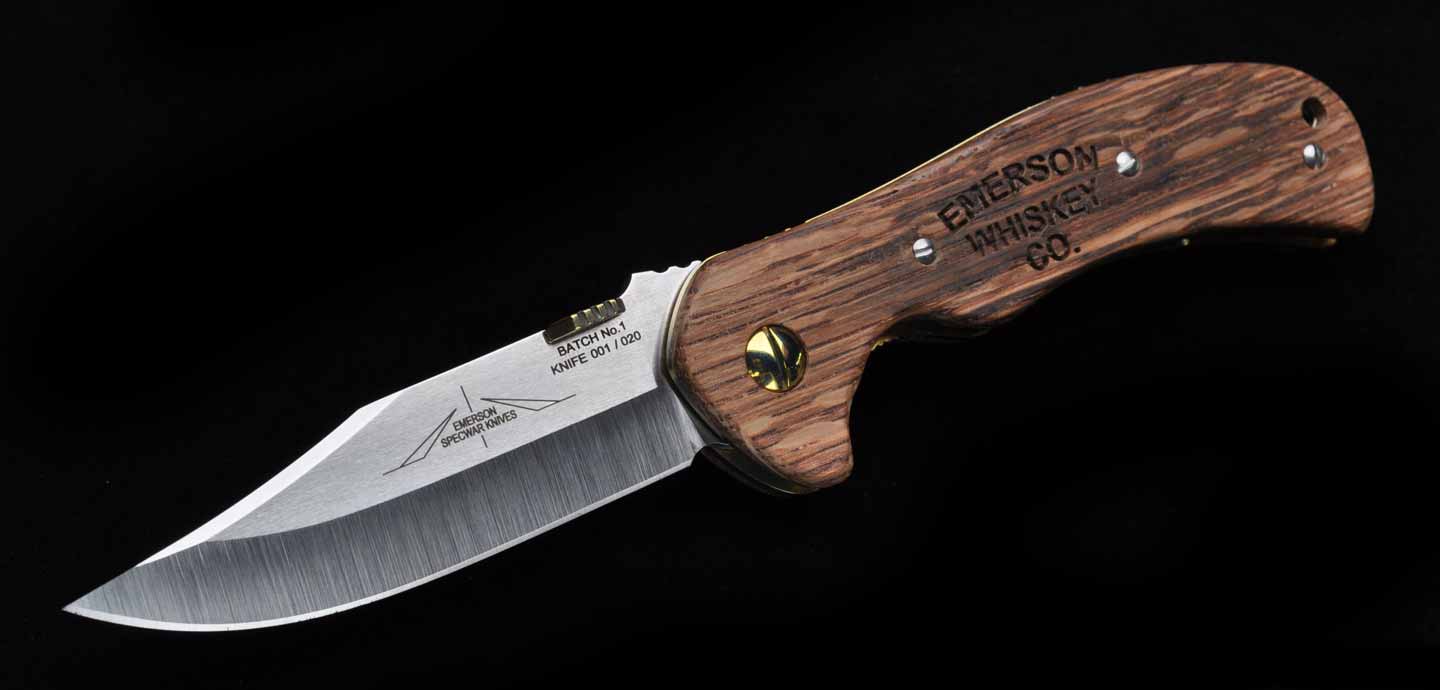 I designed the Bourbon knife to be a model that reflects a true user and tradesman's knife. I wanted something that could be used for a variety of working men's tasks. The knife had to be comfortable in the hand and of medium size, with a blade style and shape that could be used for the greatest variety of cutting chores. The knife had also to reflect the spirit and ethic of the American working man and woman, the kind of people that personify the American dream and those on whose backs the hard efforts, sacrifices and determination are what built this great country.
The knife features a Bowie style blade made from American 154 stainless tool steel and is heat treated to a hardness of 57-59 Rockwell, the best heat treatment for a real using man's knife. The frame is constructed of aerospace grade titanium for strength and durability, while not compromising lightness and rigidity, and best of all, the handles are made from the American white oak whiskey barrel staves that the whiskey was aged in for over four years. The wood has been fully stabilized, giving you a warm look, feel, and durability that will last for generations. The handles, all finished by hand, reflect the quality and attention to detail, upholding the solid reputation of American craftsmanship so sought after the world over. The Emerson Whiskey Company brand is burned into the handles of every knife, signifying its kinship to the bourbon whiskey with which it is joined in this matched, serialized and hand signed edition. Every knife is serialized to match a specific bottle of bourbon and hand signed by Ernest Emerson, and they are only available in this matched set, and in extremely limited numbers.

Only one Whiskey Six package will be available and will go up for auction the end of May 2023. Serial number 0000. More information coming soon.
Auction Closed | Sold For $7275.00