To Some They Are Accessories… To Others They Are Necessities ®
Knowing the anatomy of an Emerson Knife is very important. Especially for those who expect to use their knives to their full potential. Particularly when you are sending in your Emerson Knife for warranty work or general servicing.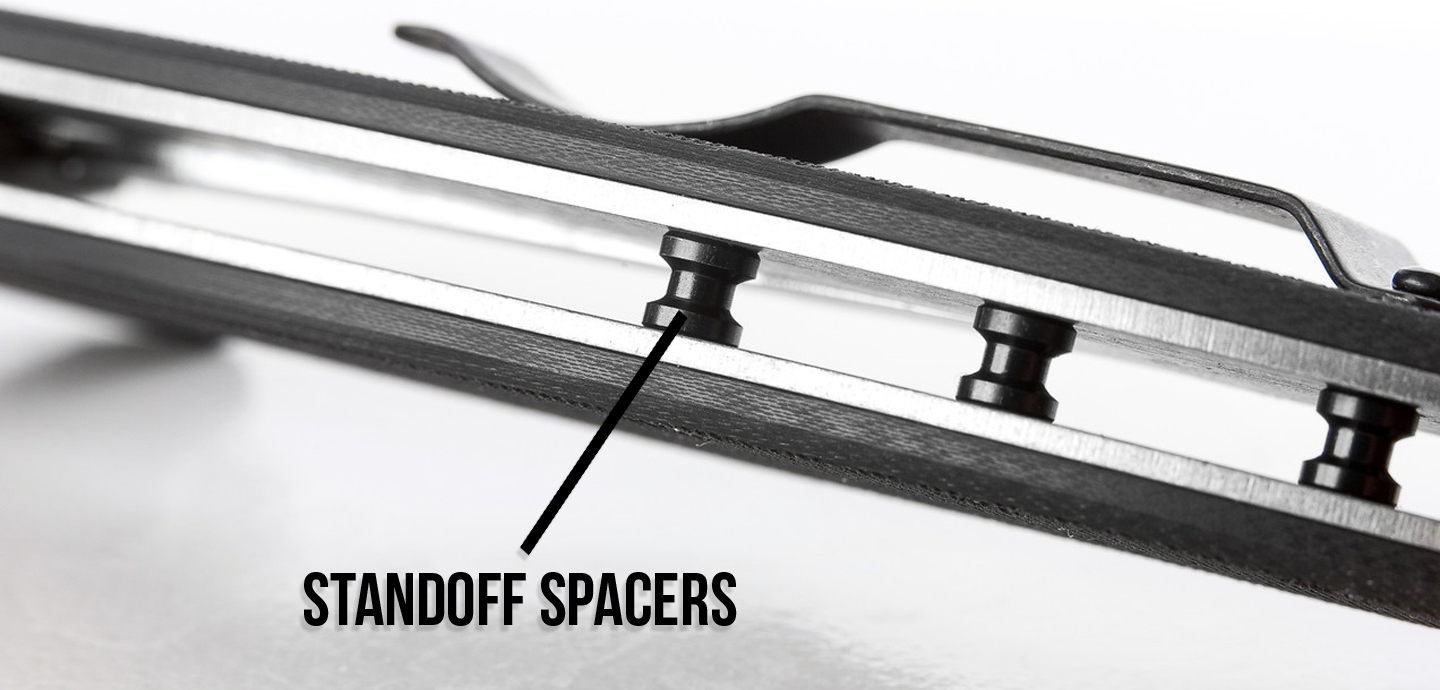 Standoff Spacers have been standard on all Emerson Knife models since 2014. Any knife ordered from our site from 2014 to present will receive one of these models, unless otherwise noted.
Please note that some Emerson Knives resellers have older stock so there is a small chance that they will have the solid G-10 backspacer shown to the right.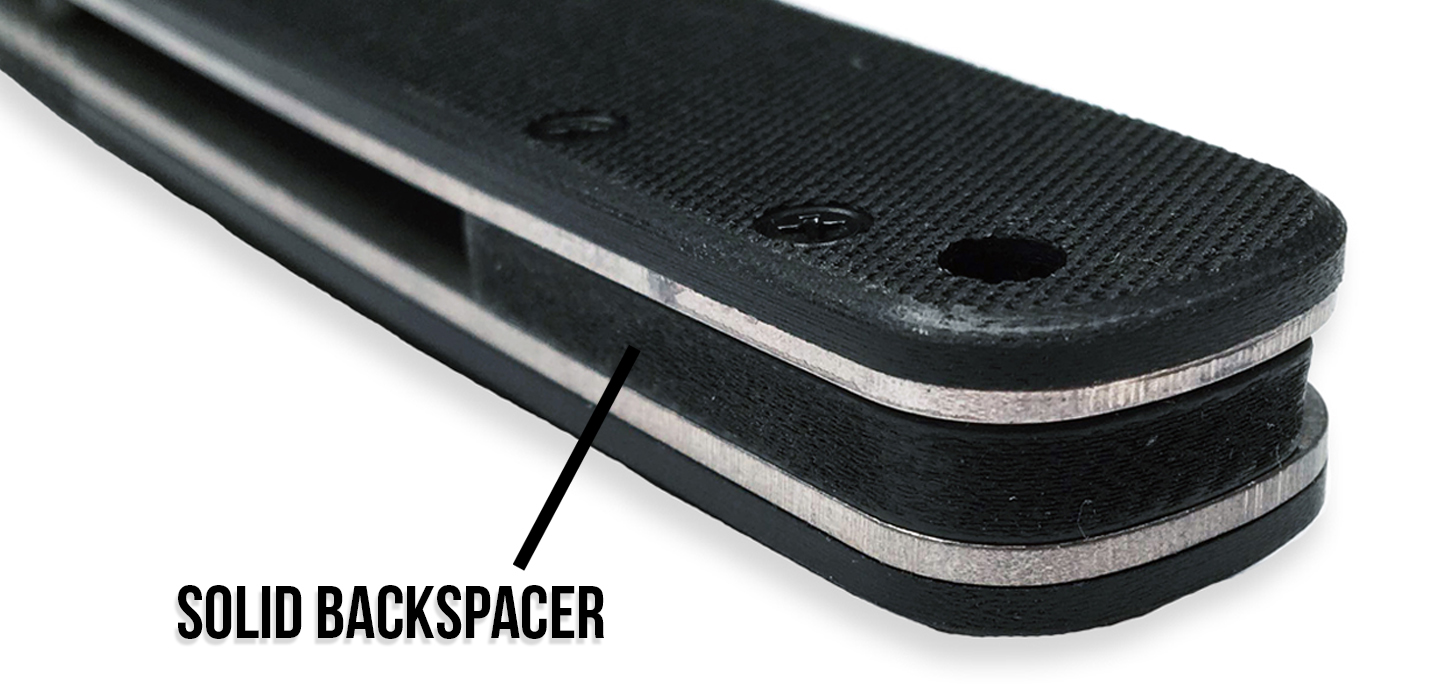 Solid back spacers are no longer standard to our production line. You can tell the difference between newer and older models by looking at many things such as the spacer type.
Both perform their function identically and there is no advantage or disadvantage to having either variation.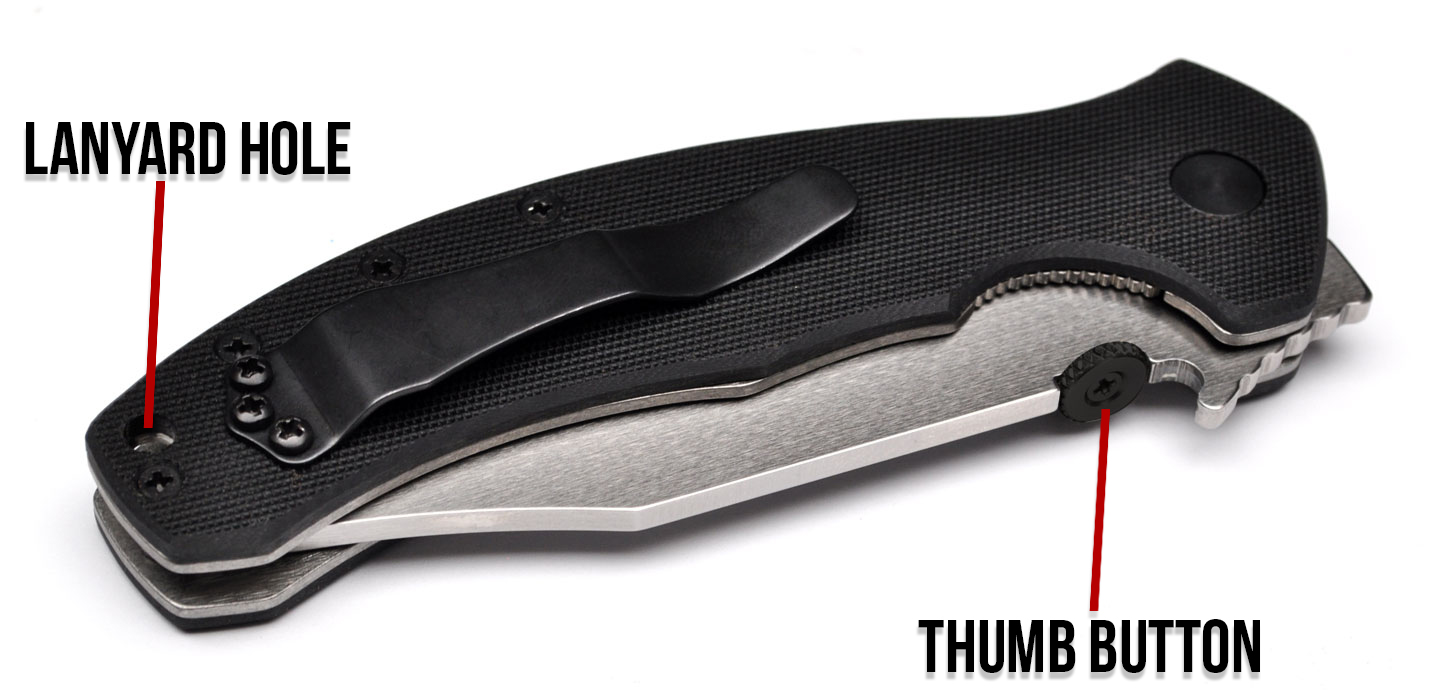 Lanyard Holes serve one purpose: attaching a paracord lanyard if you choose to get one. We get asked that question quite a lot!
The Thumb Button is there so that you may open the knife single handedly . Specifically with your thumb. Some people are naturals at it and some have to learn. Either way, it's very useful.
An important part of knowing the anatomy of an Emerson Knife is knowing how to utilize it. Using the  patented Emerson Wave Feature correctly, you can deploy the knife out of pocket rapidly. It takes some practice to master. See how it's done in the video above.
Putting on a knife lanyard used to be fairly simple and self explanatory when our knives had solid back spacers. Since the transition to standoff spacers, it has become much more difficult. Particularly when threading the paracord through the hole and out the other end. Consult the above video on how to properly install your lanyard.
HOW TO USE THE WAVE FEATURE
An important part of knowing the anatomy of an Emerson Knife is knowing how to utilize it. Using the  patented Emerson Wave Feature correctly, you can deploy the knife out of pocket rapidly. It takes some practice to master. See how it's done in the video above.
Wave Feature Video Tutorials
Getting To Know Your Blade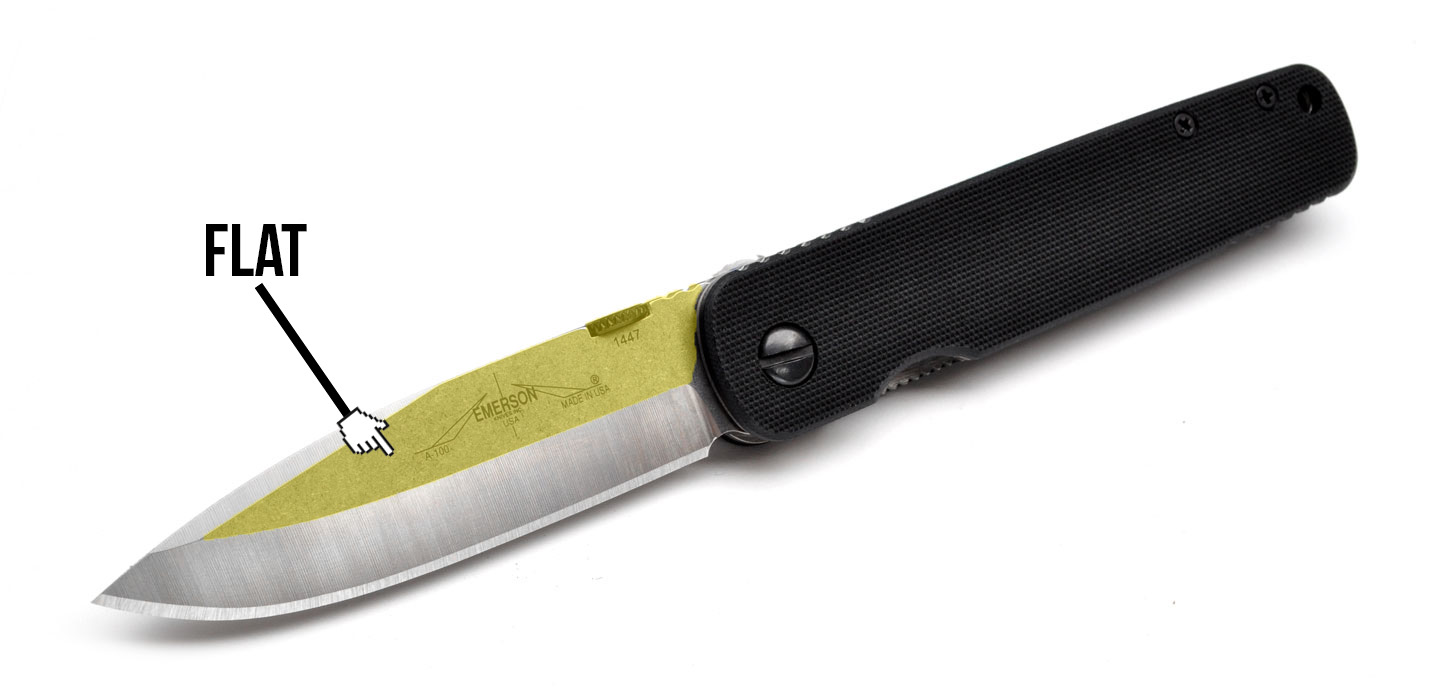 The flat part of the blade is where the logo and model information will be.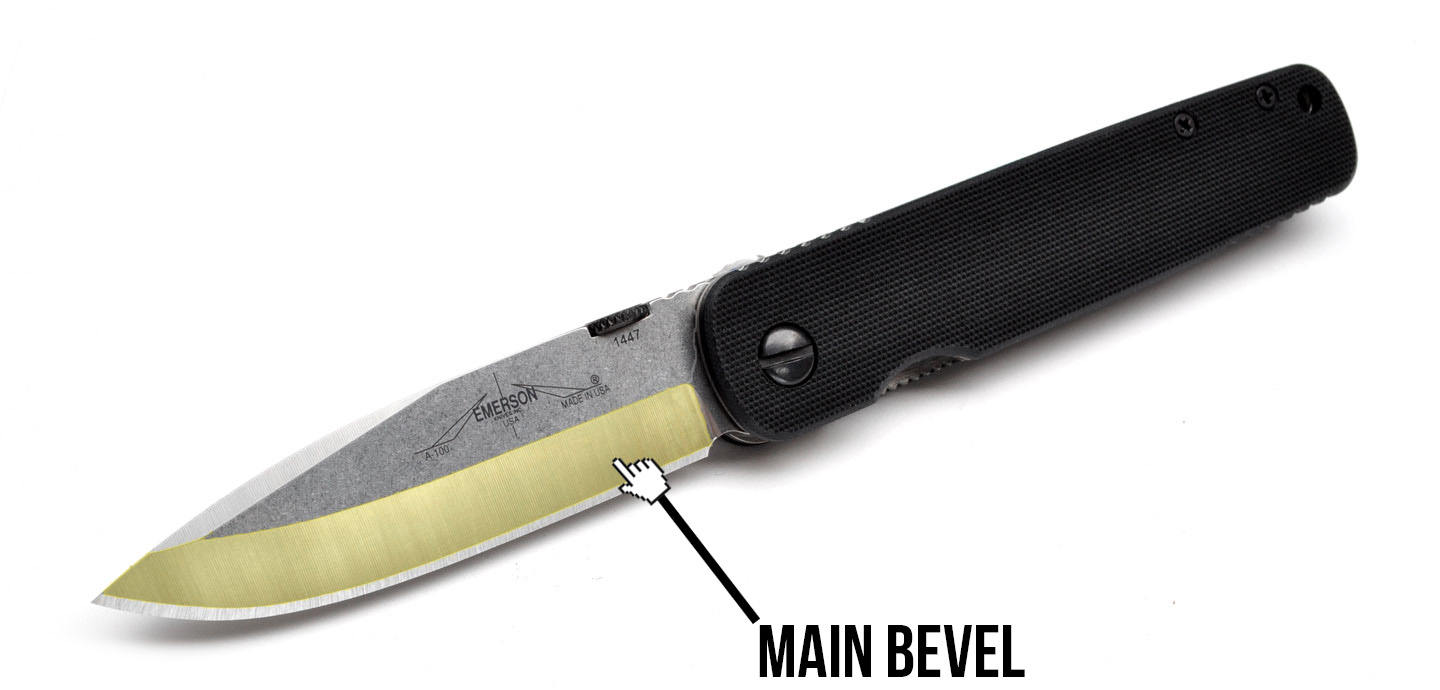 A bevel is where the grind begins and it will continue down toward the bottom of the blade.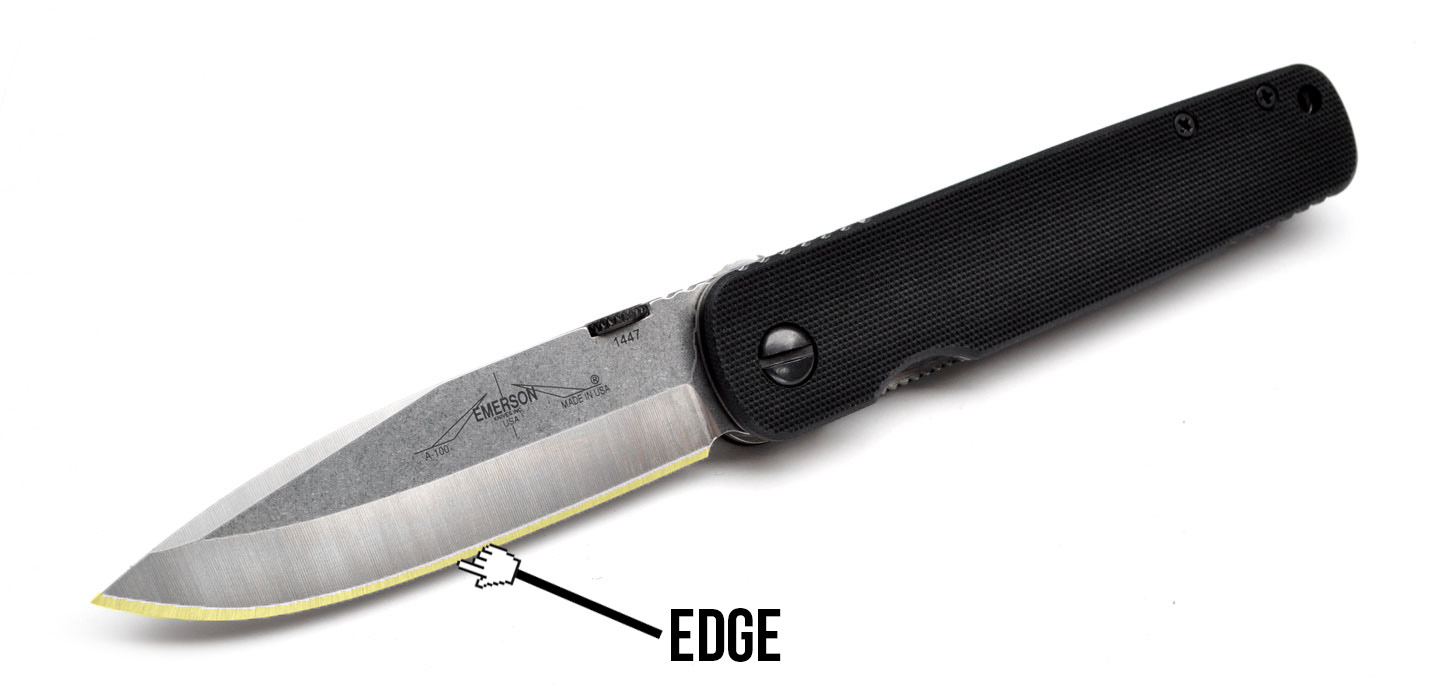 The edge is the point at which the blade is sharpened into a 25-30 degree angle to achieve a razor sharpness.
Using the above information, you can now determine what type of blade edge you have.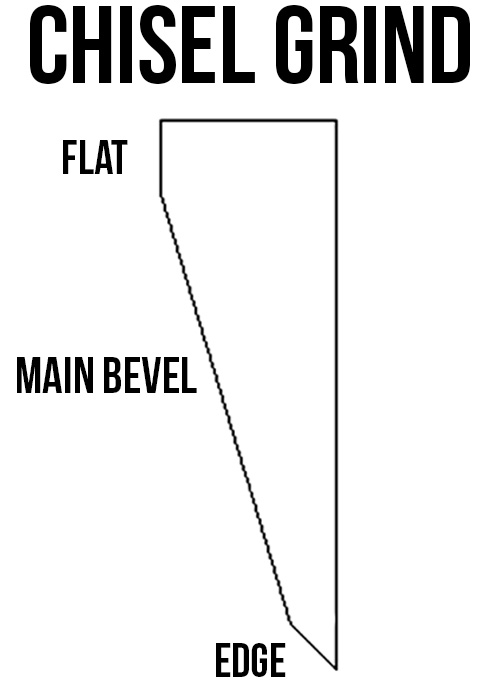 A standard Emerson Chisel Grind will be completely flat on the back side of the blade. It will have the flat part, move into a bevel and finally into the cutting edge.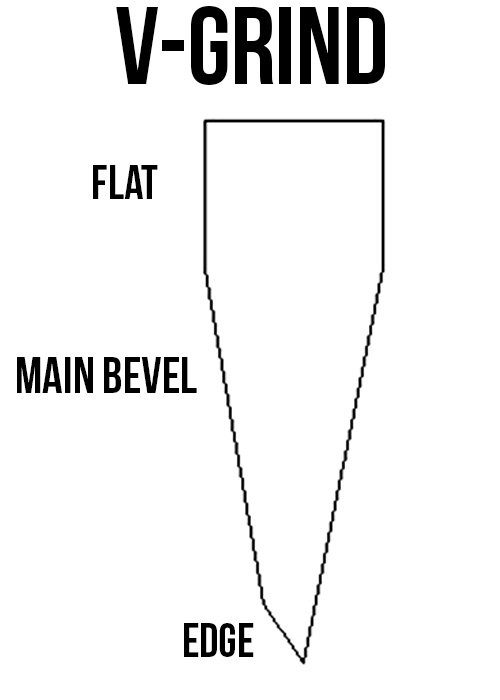 An Emerson conventional V-Grind will have the same layout but it will have a bevel on the front and backside. However, this bevel will not be sharpened into a cutting edge. The edge will only be ground on the front side of the blade.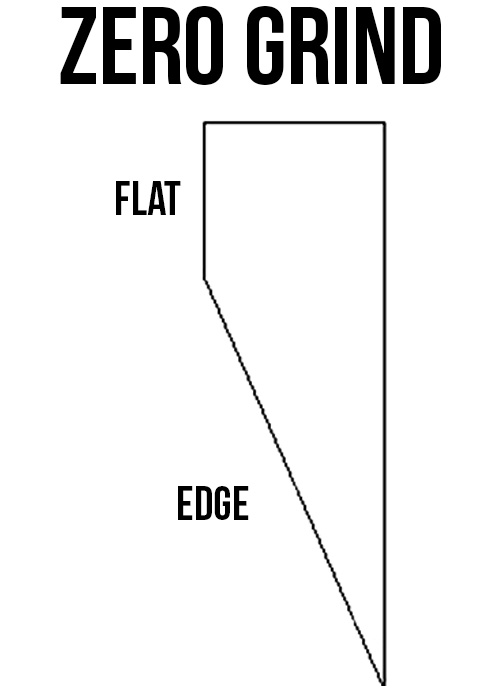 The Emerson Zero Grind will only been seen on handmade Custom Emerson Knives. These hand ground blades skip the bevel completely. They go from the flat surface and dive into the cutting edge, thus giving it a true razor sharp chisel edge.
Now that you know your blade edge it's time to look at blade profiles.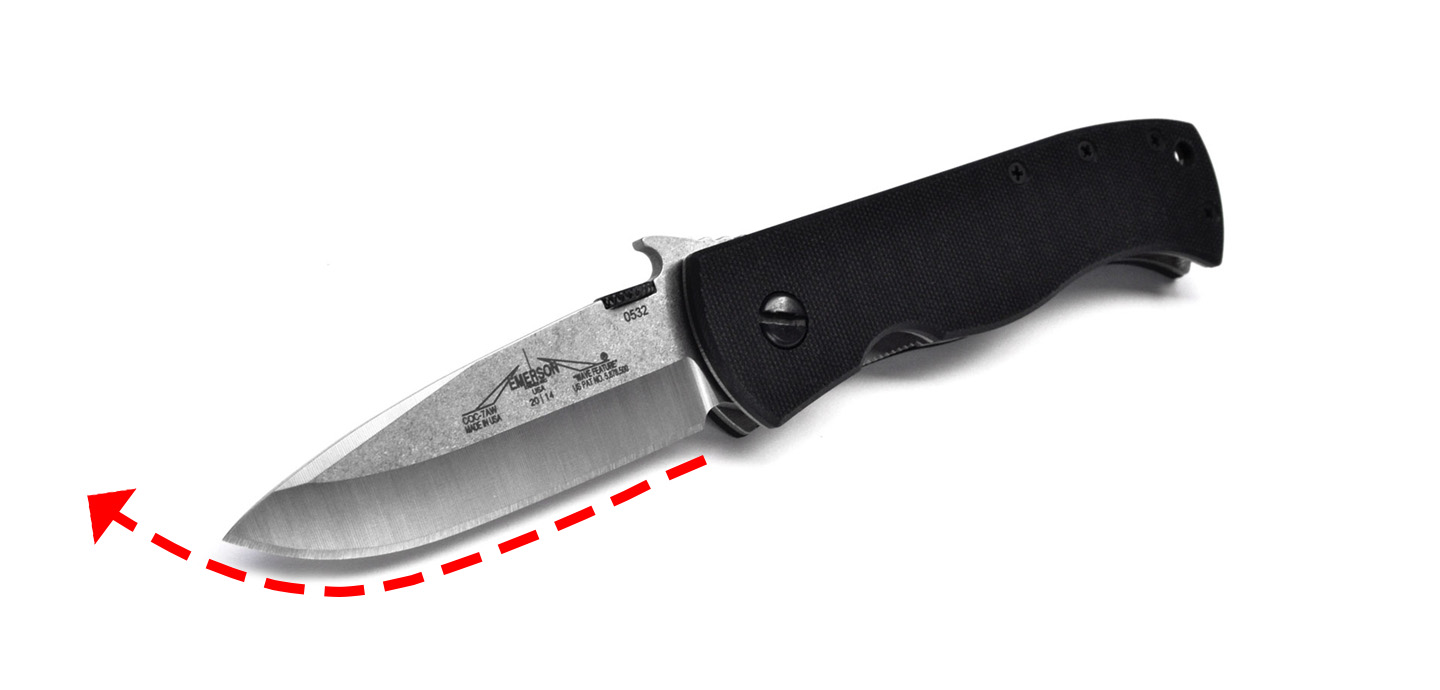 Spear Point
Spear point blades are commonly referred to as 'drop point'. The edge curves up to the tip of the blade. We refer to Emerson Knives with spear point blades as having 'A-Blades'.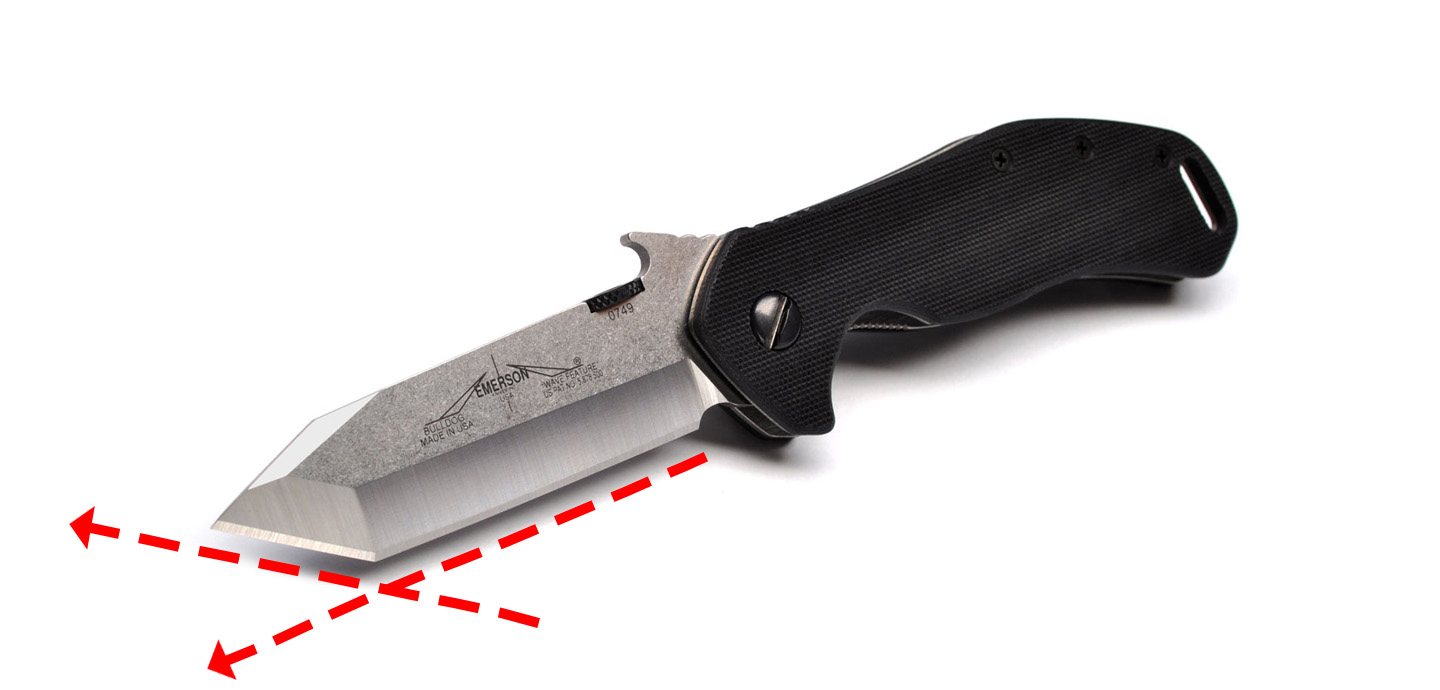 Tanto
Emerson Knives is famous for our many Tanto style blades. One of our most popular Tanto models is the Bulldog, which is shown above. The profile is similar to that of a samurai's katana, because of its sharp angles and razor sharp edge. We refer to Tanto knives as having 'B-Blades'.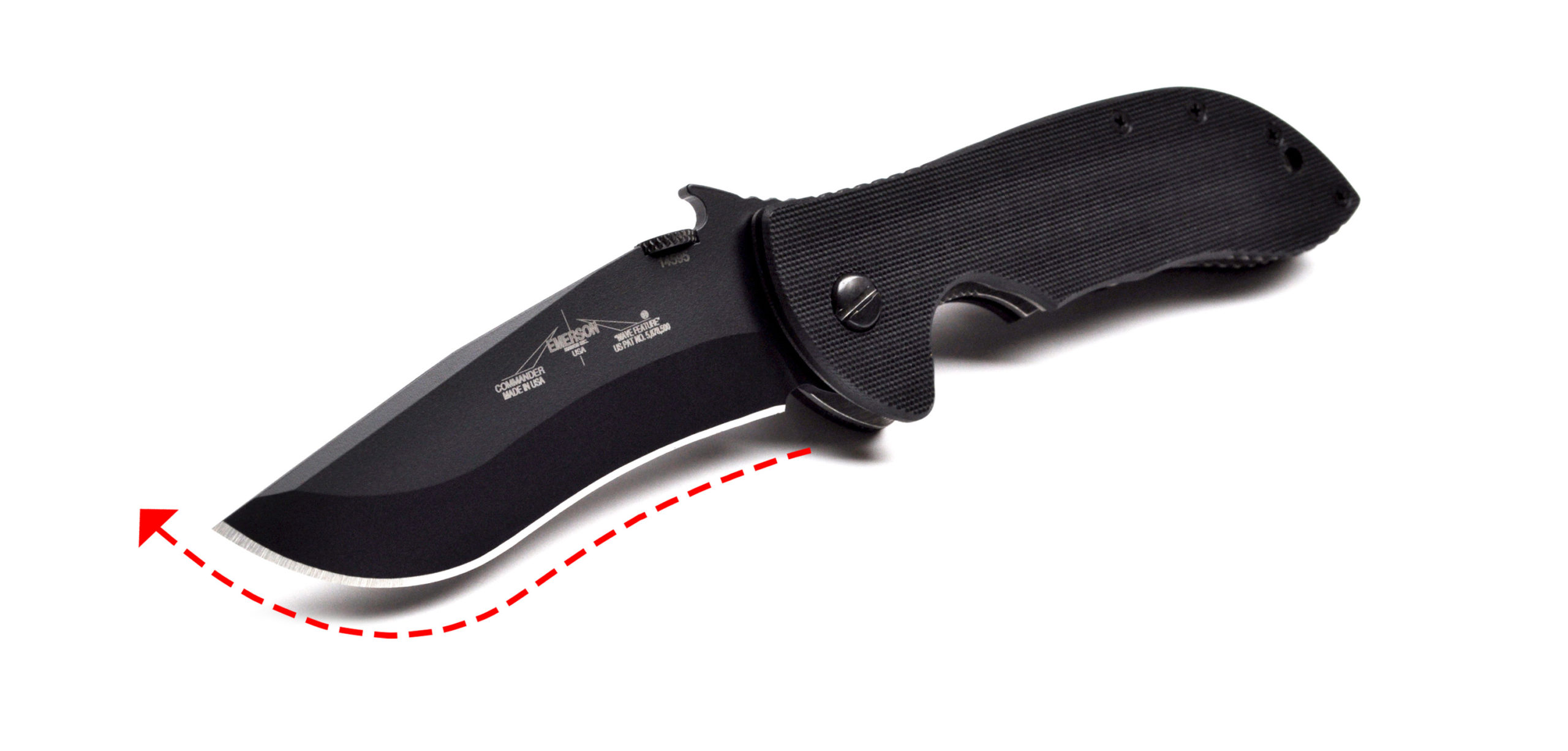 Recurve
The recurve blade is most commonly associated with the Emerson Commander. Starting from the rear of the cutting edge, it arcs upwards, then downwards. Lastly, it swoops elegantly upwards to the tip.
Fun Fact: The Emerson Commander was the recipient of the Knife of the Year award at the annual Blade Show in Atlanta!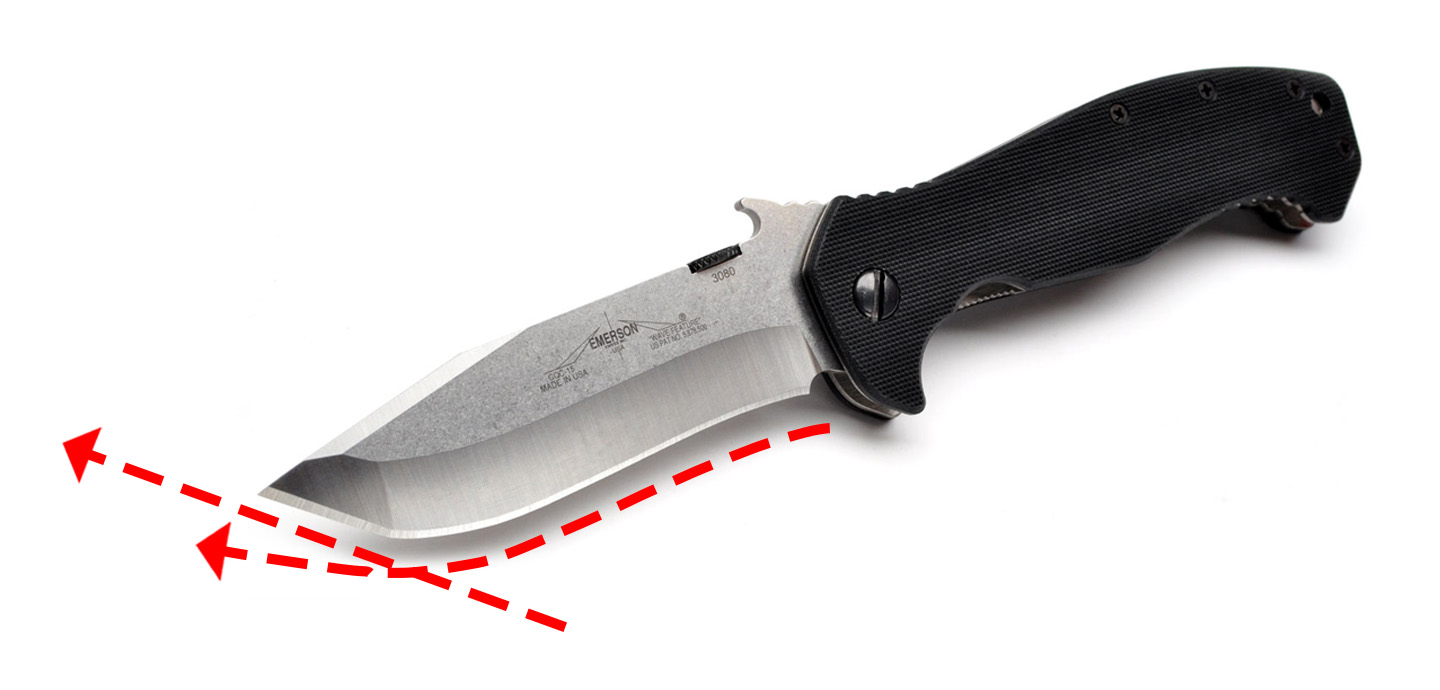 Recurve/Tanto Combo
The CQC-15 features this blade and is truly one of our most unique designs. The belly of the blade shows off our recurve edge but abruptly ends at a sharp angle giving it a nice Tanto tip.
Fun Fact: CQC-15s are basically a fusion of the CQC-7BW and the Commander.
Bowie
Bowie blades are very popular among Emerson Knives fans. These awesome knives have an upswept blade edge that meets a downward curved tip. This gives it a similar appearance to a rhino's horn. Perfect for hunters and fisherman because their fine points are perfect for getting into small crevices.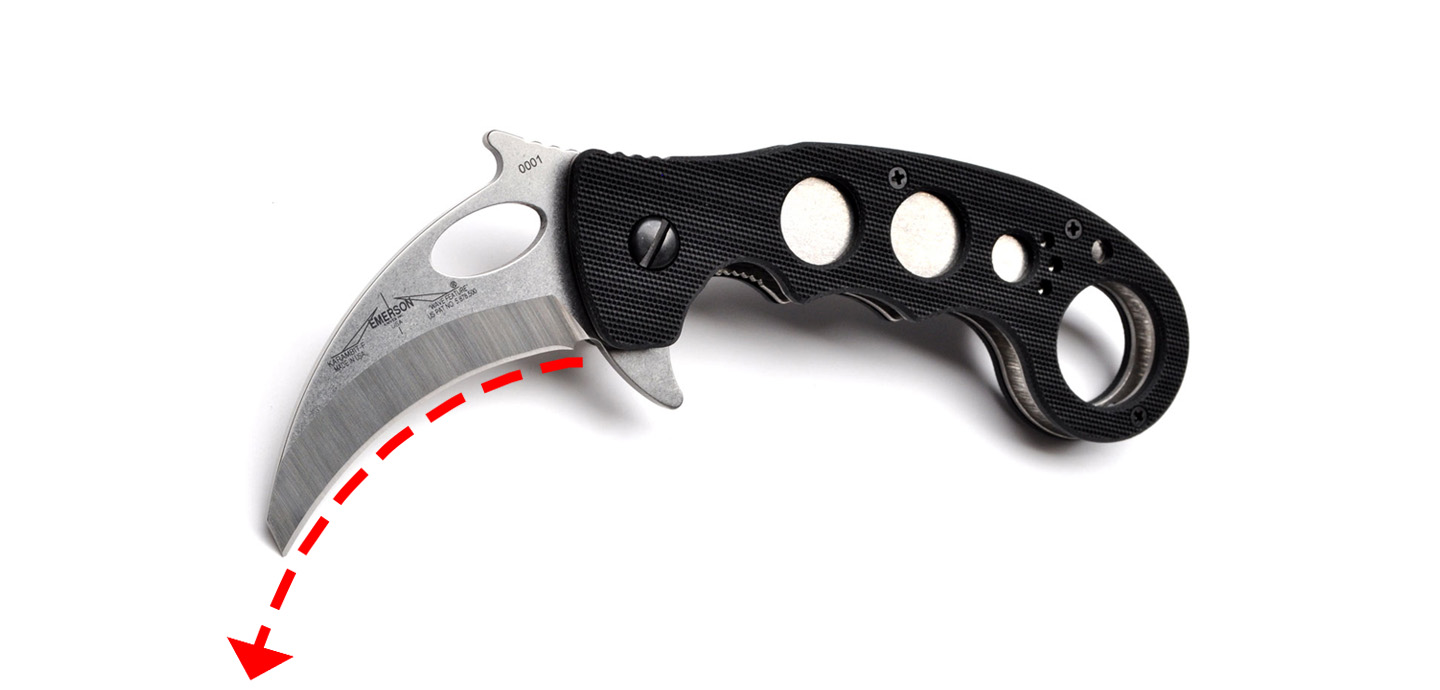 Karambit
The Karambit design comes directly from an ancient Indonesian utility knife used for self defense, but Emerson's Combat Karambit is designed as a fighting weapon. You can identify a Karambit knife by its claw-like blade.
Fun Fact: The Emerson Combat Karambit is the original folding karambit. There are many like it, but nothing beats the original!
Need your Emerson Knife Repaired or Serviced?
We offer a lifetime warranty! If you need any work done, feel free to ship it in. We offer the following services for a fee:
Sharpening
Blade Replacement (Subject to Availability)
Adding partial serrations
Drill and Tap for Left Handed Carry
Spa Treatment (Includes: Sharpening, new hardware, clip, cleaning and adjustments)
All you need to do is send your knife to us along with a completed Service/Repair Form. Click the box below to view/print the form.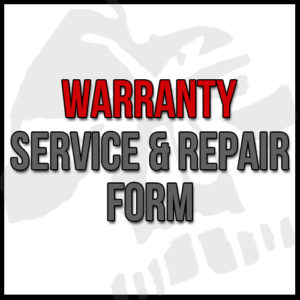 For more details on what our warranty does and does not cover, click here.