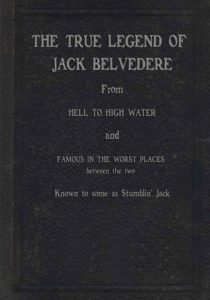 The story of Stumblin' Jack is true to the accounting of Mr. Jack Belvedere, through the translation and transcription of his written journals, firsthand accounts, family history and various other historical sources.
Stumblin' Jack is best known as one of the old west's finest whiskey distillers. His famous, and notorious, Gunslingers Whiskey, has woven itself into the fabric that is the story of the American Wild West. A story of cowboys, lawmen, gunslingers, and bounty hunters, as well as the outlaws, horse thieves, desperados, and bandits. To quote Jack himself, about Gunslingers Whiskey, "My whiskey is either responsible for takin more lives or making more lives than any other whiskey in history."
I am very privileged and honored to have been given the permission to bring the story of Stumblin' Jack Belvedere out from the shadows and back roads of history, so that you too may know his incredible story.
I have been given sole permission by the Belvedere family to access all of the possessions, memorabilia, and personal papers of their beloved Great Grandfather, Stumblin' Jack. In short, I have been appointed the official biographer of Jack Belvedere. This has been a fascinating journey for me as I have strolled back through time to view the world through the eyes of a man who touched so many lives.
Click below to download your very own copy of The True Legend of Jack Belvedere. Also known as Stumblin' Jack.
-Ernest Emerson