"MY WAY"
To help you keep your knife sharp and ready to serve you, I'm going to show you some of the Emerson quick and dirty methods using a couple of different procedures to sharpen your knife. We can't show all of the fixtures, devices or methods as there are ton of them. Most of them will work and if you use your sharpening method in the manner shown below, and can improvise a little; I know you can sharpen your knife.
If you would like to send your knife in for sharpening please download form below.
**Please print and fill out the Emerson Knives Service Form and send it along with your knife* *WE DO NOT DO SERVICE, WARRANTY WORK OR SHARPEN ANY KNIVES THAT HAVE BEEN CUSTOMIZED OR ALTERED OUTSIDE OF OUR FACTORY AND OR WERE NOT MANUFACTURED BY EMERSON KNIVES, INC.
Service Form For Sharpening Click Here
Using the Commander knife, this sequence shows the initial sharpening of the edge using a diamond stick. Push the stick away from you, along the edge.
When you feel a burr with the back of your fingernail by running your fingernail off the edge in the direction of the arrow, you have sharpened the front edge enough.

Turning the knife over, you lightly stroke or kiss the backside just to break the burr free. This only takes a couple of light passes. Incline the sharpener slightly so you don't scratch the surface of the blade and are only touching the very edge
Stroping the edge of the knife–front and back.
Next you take the cardboard backside of a yellow legal pad and strop the knife back and forth on the cardboard. You have to use some pressure, so be sure that your fingers are clear of the blade if it were to accidentally close. Do this repeatedly maybe, 10 – 20 strokes on each side.
The end result after stroping on the cardboard. Total time about 4 minutes.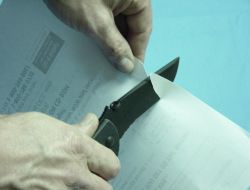 These photos illustrate the same procedures as used on the Commander but show that you must treat the two cutting edges on the Tanto style blades as separate sharpening operations. Consequently when you strop the knife, you will need to strop the main edge, change your position and strop the front edge.
Sharpening the main edge.
Changing position, sharpen the front edge.

Same procedure for the back side—main edge deburring. 
Changing position, front edge deburring.

This photo shows using a Gatco Triceps to sharpen the serrations on a CQC-7.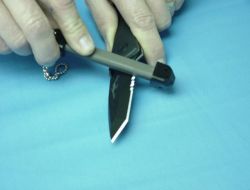 These photos show front edge sharpening using a Gatco Triceps sharpener, the same as you would use croc sticks or any other similar sharpening set up. You would follow the same guideline as above, regarding the burr and stroping.
This photo sequence shows using the Gatco Triceps to sharpen the edge as we showed in the first sequence using the diamond stick. The procedures are the same for deburring and stroping as previously shown.
To order sharpening products click  here.